University Town Center
The University Town Center (UTC), located at 1101 Pacific Avenue (on the corner of Pacific and Cathcart streets) in downtown Santa Cruz, houses students amidst all that downtown has to offer, including cafés, restaurants, shops, museum, movie theaters, library and more! Continuing, transfer, and re-entry students are eligible to live here.
Double and triple occupancy studio apartments with private bathrooms and kitchenettes
Rate includes internet, cable, and utilities
The UTC is a smoke free facility in all indoor areas, including students' rooms
The fourth floor lounge features a large-screen TV, as well as a full kitchen, with oven and dishwasher for community events. A fifth floor lounge includes two study areas.
Laundry room with debit card or credit card-operated washers and dryers
A live-in Coordinator for Residential Education and student staff plan activities and assist residents.
Video taken prior to COVID-19.
UCSC is following all CDC guidelines.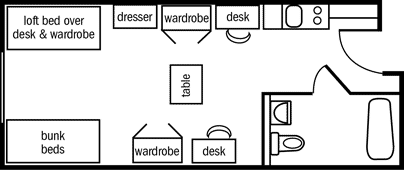 Some or all instruction for all or part of the Academic Year may be delivered remotely. Tuition and fees have been set regardless of the method of instruction and will not be refunded in the event instruction occurs remotely for any part of the Academic Year. Figures for tuition and fees represent currently approved or proposed amounts and may not be final. Actual tuition and fees are subject to change by the University of California as determined to be necessary or appropriate. Final approved tuition and fee levels may differ from the amounts presented.
Transportation
The UTC is less than 200 yards from the Santa Cruz Metro, and University route Metro buses serve the campus every five to eight minutes on academic days.
UTC residents are allowed to keep their bikes in their rooms. Bike lockers are available from the city for a nominal fee.
Parking for UTC residents in downtown Santa Cruz is limited and can be expensive.
Staff and Programming
Name
Email
Phone
Nicole Howard,
Housing Coordinator
utc@ucsc.edu
(831) 459-4388
Kyle Hamlin,
Coordinator for Residential Education
krhamlin@ucsc.edu
(831) 421-0695
See
Also