Graduate Student Housing
Graduate Student Housing is an intimate community housing just 82 students, and is home to a diverse group, including students from all over the United States and the world.
The apartments are located adjacent to "Science Hill", home to many of UCSC's main academic facilities. Each apartment has four single bedrooms, living room, kitchen, dining room, and bathroom. View virtual tours.
Application and Assignment Processes
Continuing graduate students are encouraged to apply during the Priority Housing Application Period April 16-23, 2018.
New graduate students will receive information May 2, 2018 on how to complete an online housing application.
Returning residents have priority for placement. If necessary, a lottery will be conducted to determine assignment order for new graduate students.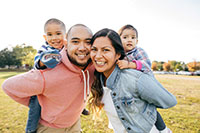 Graduate students who live with family members are eligible to apply at
Family Student Housing
.
Photo Gallery
Apply online
Questions? (831) 459-5712