Move-In
Spring Move-in 
Sunday, March 27, 2022 
---
COVID-19 Vaccination and Testing
To be compliant with the UC Vaccine Policy, students must be completely vaccinated and upload proof of their vaccination, including type and dates of doses, to Health e-Messenger OR must have applied for an exception or deferral. 
For COVID-19 and health-related questions…
If you test positive, immediately isolate, and follow the COVID-19 Positive Test Result Instructions.
For non-urgent COVID specific questions please contact UCSC Student Health Center by sending a secure message via Health e-Messenger: Messages→New Message→COVID-19 Questions.
If you have an emergency warning sign (including trouble breathing), please seek medical care immediately by calling the 24 hour nurse advice line at 831-459-2591, 911, or going to your local emergency department.
---
There are important health and COVID mitigation actions you should expect to follow before and after you arrive at UCSC. Please note that these are subject to change based on public health guidelines related to the pandemic or other campus conditions. These actions include:
Required Actions - Pre Arrival
Test 24 Hours Before Moving to Campus
All students are expected to complete a rapid antigen test 24 hours before traveling to the campus and report the results via the Spring Break COVID-19 Pre-Arrival Testing form. If you test positive, you will need to change your travel plans, immediately isolate, and follow the COVID-19 Positive Test Result Instructions.
UCSC will accept digital Antigen or PCR COVID-19 negative test results. The over-the-counter BinaxNOW COVID-19 Antigen Self Test kit, capable of displaying a result through the Navica app, will be accepted. 
If you choose the BinaxNOW Antigen Self Test option, follow these steps carefully (click to expand)
If you have tested positive for COVID-19 within 3 months of your move-in appointment you should bring your positive test result and documentation stating that you have completed a 10-day isolation period in advance of your move-in appointment.
Campus COVID testing is important and required for new and returning students to UC Santa Cruz communities. Before arriving on campus, register for COVID testing through Fulgent, the campus COVID testing provider.
We encourage all students to schedule an on-campus testing appointment prior to arriving on campus. Limited drop-ins are available, but confirming an appointment will save you time and help ensure compliance with the on-campus testing protocol.
Required Actions - Post Arrival
You are expected to complete a COVID test at an on-campus testing facility after you have arrived on campus. As outlined in the COVID-19 Testing Protocols, the timeline for completing this initial test differs depending on your residential and vaccination status.
Residential students who are not up-to-date on their COVID vaccinations must test at an on-campus testing site within 48 hours of arrival to campus.
Residential students who are up to date on their COVID vaccinations must test at an on-campus testing site within 7 days of arrival to campus.
COVID-19 Training
. All students will be required to take an online
COVID-19 safety training course
.
Instructions will be issued prior to moving in
.
---
Move-In Information
Checking-In: Once you arrive on campus, please make your way to your housing office to check in and receive your key(s).
When you arrive at your college, among the first things you will be asked to do is display your Clearance Badge on your electronic device, so please have these out and ready to present to staff. Note: To see the badge, go to your Health e-Messenger home screen and select Show Badge. We recommend that you take a screenshot of your badge for easier access to it throughout the day; you'll also need to show it to get food at the dining halls. More about Clearance Badge »
Students whose Clearance Badge displays RED must contact the Student Health Center.
---
What to Bring, and What NOT to Bring to College
As you prepare to come to UCSC, you may be wondering what you should pack. Our  "What To Bring" page includes a handy list of items you may want to consider bringing. The list doesn't contain basics, like clothes, but does have things you might forget to pack. There's also a list of things you shouldn't bring, including fire hazards like candles and noisy items like drum sets. Be sure to check it out, especially the COVID-related items.
Important Technology Considerations
In order to make the most of your educational and personal entertainment needs when using the campus's network, there are several important details to consider.
Important: If you plan to bring a desktop computer it must have a Wi-Fi adapter installed. The current recommended specs for your PCIe or USB Wi-Fi adapter are for it to support Wi-Fi 6 (802.11ax).
Cable television is available to residents via Xfinity on Campus. If you plan to use a television set, a Roku or Fire TV is required. Chromecasts are not supported.
UCSC uses Multi-Factor Authentication (MFA). MFA, also known as two-step or 2-factor authentication, adds a second layer of protection to your UCSC account in addition to your username and password. MFA requires a device in addition to your primary computer, laptop, or tablet.
Student rooms do not have access to the internet via Ethernet ports*. All internet access is wireless. An Ethernet port may be present in some student rooms but these are not activated. *For Merrill Residence Halls and lower quad Crown Residence Halls, see here.
Wireless routers should not be used in upgraded ResWiFi locations.
If you plan to bring a printer to campus, you can print wirelessly using Wi-Fi Direct or by connecting a USB cable.
ResWiFi doesn't guarantee support for certain smart devices such as Chromecasts, Sonos speakers, or smart lighting/plugs. Gaming consoles and streaming devices may need to be enrolled. For clarifications and enrollment requests, please call, email, or visit the ResNet office.
For more information regarding device compatibility as well as for instructions on how to get help, please call, email, or open a ticket with the ResNet office.
---
Dining Meal Service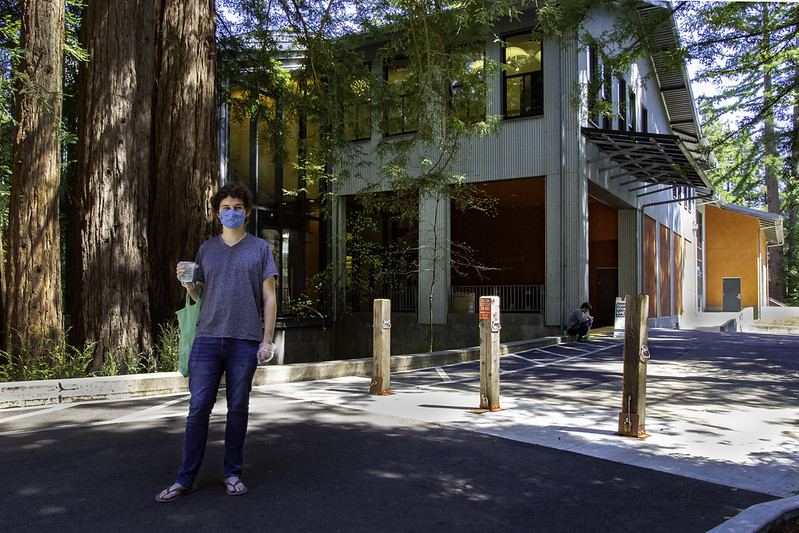 Dining locations are open for to-go service only.
---
Move-In Parking
Valid parking is required during move-in, please visit Transportation & Parking Services for more information on permit requirements, purchasing permits, and the use of metered parking, pay stations, and the ParkMobile app. 
---
Sustainability 
Please unpack items from their original packaging before you get to campus to help us minimize cardboard and plastic waste. After you unpack your room, look for the cardboard corrals with orange fencing near existing dumpster areas - be sure to break down your cardboard boxes and separate out any plastic or styrofoam from the cardboard. Utilize the nearby recycling bins for plastic, the large plastic bags for styrofoam, and landfill bins for any other items.
---
Keeping Our Campus Community Healthy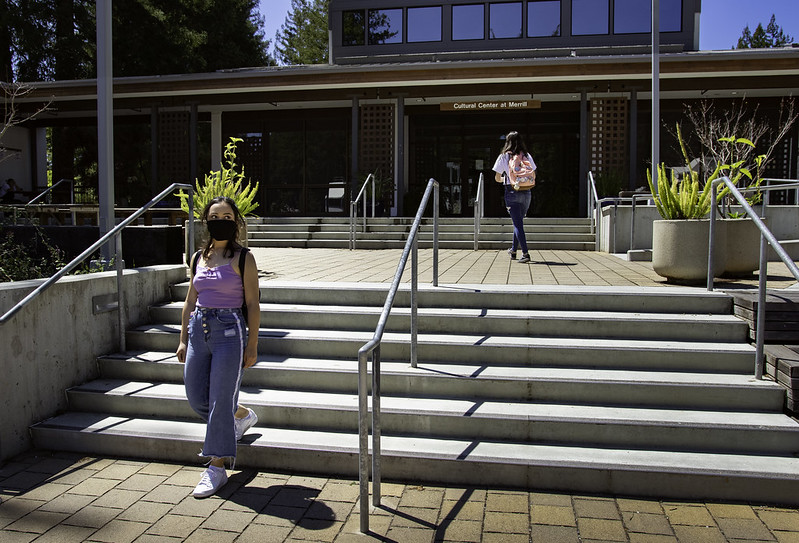 We know that in this time of COVID-19, physical distancing, wearing face coverings, and frequent handwashing are critical to limiting the spread of infection. All members of the UCSC community are expected to take responsibility for their own health and well-being, and act with respect and consideration for those around them. Our intention is to provide a positive on-campus experience while abiding by county, state, and campus public health practices and protocols, including asking all residents to agree to:
Comply with university, local, state, and national public health directives.
Participate in all required pre-arrival protocols, vaccination requirements, and testing protocols as instituted by the university.
Use caution when congregating, gathering, or hanging out in indoor common spaces.
Wear face coverings/masks in indoor public spaces: campus offices, dining halls, retail locations, residence hall hallways, all residential lounges/community rooms, all residential laundry rooms, and all residential bathrooms. This applies to all vaccinated and unvaccinated university affiliates and individuals accompanying them.
Wash hands frequently and avoid touching your face.
Unvaccinated individuals need to adhere to physical distancing protocols, which means maintaining at least 6 feet of distance between yourself and others at all times. This includes when leaving your room to do your laundry, getting food in a dining hall, etc.
We can't express how grateful we are for you respecting and abiding by these measures. Protecting our community of Banana Slugs by following these guidelines is a great way to support our Principles of Community. It is imperative that students follow the public health policies in place as stated on the UCSC Slug Strong website as well as the 2021-22 Housing Terms and Conditions.
We acknowledge that these restrictions change campus in a way that makes it unlikely to resemble the campus life you imagined – you are not alone. Our staff will do everything we can to ensure that your residential experience is a happy and fulfilling one, even with these restrictions under which we all must currently operate.

UC Santa Cruz is a beautiful campus and we are eager for you to become a part of our residential community. But, if you are no longer interested in Spring 2022 housing, you must return to the Housing Portal to cancel your application. 

We will be in touch with more information very soon. Meanwhile, be well, and let us know of any questions you may have.

We're looking forward to welcoming you to campus! #SlugStrong
---
Contact Us
For general questions about move-in, sequestering, or COVID-19 testing, contact College Student Life Operations: csladmin@ucsc.edu.
For questions about your room assignment and your college/community, contact your Housing Coordinator.
For questions about your housing bill or your housing application, contact the Campus Housing Office.
See
Also