Redwood Grove
Redwood Grove is a small, quiet community for incoming transfer students (regardless of college affiliation). Students must be 23 or older.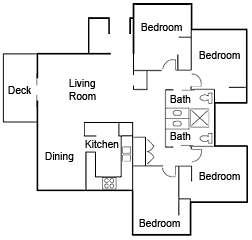 There are 28 apartments, most of which are five-person apartments consisting of three singles and one small double. Each apartment has a living room, kitchen, dining room, and bathroom. Ground floor apartments have decks, while upper apartments have private balconies.
Trans-inclusive Housing for continuing students and transfer students is also located at Redwood Grove. These apartments are available to students of any college affiliation.
 Call (831) 459-5282 or e-mail redwoodgrove@ucsc.edu for more information.
A meal plan is not required for Redwood Grove residents. Students may purchase a meal plan through a separate application process (
studenthousing.ucsc.edu
).
See
Also