Residential Community Service Program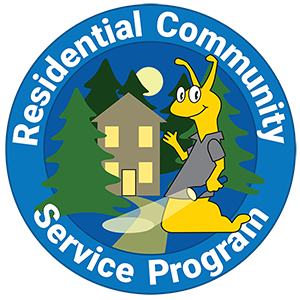 Residential Community Service Partners (RCSPs) work in conjunction with Santa Cruz Fire, university support services, University Police, and the administration of university residential communities (both on campus and off campus) to ensure a safe and secure living environment for all residents.
RCSPs are trained in emergency response, first aid, CPR, and disaster response, and carry radios linked to University Dispatch. Teamwork is a highly valued skill in our program and our RCSPs work in teams to provide consistent service across campus and in all residential communities.
Community Service Support

RCSPs offer a wide variety of services to the residential communities including:
assistance with lockouts
securing buildings
providing first aid
assisting with noise complaints
assistance with documenting policy violations
assistance with nighttime maintenance issues
assisting with calls for fire, medical, or crisis assistance
assistance with quality of life concerns
residential event security
RCSPs are visible in the communities at night from 7pm to 3am and can be approached for assistance or you can call their Dispatch at (831) 459-2100.
Office of Emergency Management
For assistance relating to fire safety, CPR/first aid training, fire extinguisher training, Community Emergency Response Training (CERT), ReadySlugs Videos, campus emergency procedures, or for non-emergency incident reporting on campus, you can contact the Office of Emergency Management at (831) 459-3828.
Environmental Health and Safety
For issues relating to ergonomics, safety training, OSHA questions, hazardous material (Haz-Mat) concerns, or assistance with general safety issues on campus, you can contact the Environmental Health and Safety Department at (831) 459-2553.
Maintenance Issues
For assistance with any non-urgent maintenance concern relating to a residential area or building, please submit a CruzFix request. For non-urgent concerns relating to an academic or office building, please contact Physical Plant at (831) 459-4444.
Feedback
Any comments, questions or concerns are welcome. Please use one of these forms to communicate with us.
Residential Community Service Program
Phone: (831) 459-4692
See
Also