Kresge College Renewal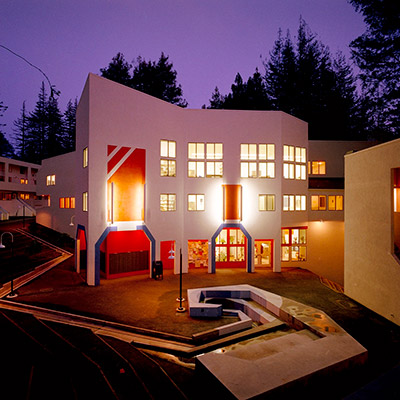 Find out more about the Kresge renewal project...
Special Report: The Evolution of Kresge College
August 27, 2019
Dear Kresge Community Members,
Welcome to Kresge College. The coming academic year is going to be an exciting one at Kresge. After three years of planning and thousands of hours spent in meetings and town halls involving students, staff, faculty, alums, and architects we are starting the construction phase of the Kresge Renewal Project. This is a four-year project. Construction is scheduled to end in fall of 2023. You can read more about the project and see renderings online at reports.news.ucsc.edu/kresge.
The project will include a new Kresge Town Hall, new and renovated lounges and outdoor gathering spaces, new student and faculty academic space, and new and renovated residential space. The project will also include a new academic building that will house classroom space, the Kresge College Academic Office, computer lab and be home to the Science Communication Program, History of Art & Visual Culture, Film & Digital Media, and Writing program offices.
Once the project is completed we will have approximately 400 new beds for first-year students in three traditional style residence halls, and 280 beds for continuing students.
The project was designed to use the existing footprint of Kresge College in order to have the least amount of impact on the environment. The three new residential buildings were designed to curve around some of the larger redwood groves located in the Kresge Meadow.
Although Kresge will be under construction we will be providing all the services and programs we have offered in the past. Starting fall 2019, we will have approximately three hundred new frosh living at Kresge and another 40 Kresge frosh living at Porter College. The Kresge students at Porter will be housed together in Porter B-Building and as soon as space becomes available we will be moving those students over to Kresge.
Initial site preparation is scheduled to go from late August to early September, from 7am to 7pm, Monday through Friday. Typically, the construction crews do not work on the weekends. When they do it is by special permission and notices will go out to the community prior to the weekend work happening. We have the earlier and later construction time during the first phase to get as much site work done prior to when the majority of our students get back on campus.
We will use this blog to update the community about the project as it progresses. We will also have town hall meetings throughout the year to update the community on the project. Fall quarter town hall meetings are scheduled in the evening on October 2, November 6, and December 4 in the I-Lounge near the Porter Apartments.
Key Dates:
(Dates and plans are fluid so they may change.)
Late August - early September
Fencing goes up around Phase 2 construction site (see map

[PDF]

)
Early September
Site preparation begins
Porter/Kresge Road closed to the public from North of the Piazetta Main entrance (across from Lot 143) to the North Perimeter Lot 150
Traffic from Kresge Lot 143 to the Porter Main entrance will remain two way and open
Kresge Lots 143 and 145 (main Lots still fully accessible to public)
Kresge Lot 147 (near I Lounge fully accessible to public)
There will be no construction work during our main move-ins, Sept. 20—22. Work time when school is in session typically runs 8am—4pm, Monday—Friday.
As I get more information, I will send it your way.
If you have any questions about the Kresge Renewal Project please feel free to contact me.
Sincerely,

Mike Yamauchi-Gleason
Senior Director – College Student Life
Porter and Kresge Colleges
myg@ucsc.edu