Information on COVID-19 and student housing
COVID-19/Coronavirus Update
Like universities around the world, UC Santa Cruz is actively observing impacts of the COVID-19 (coronavirus) pandemic and carefully adjusting to significant changes resulting from the health crisis. We are following health and safety guidelines to protect the well-being of the campus community.
Page Updated April 15, 2021
---
What to Expect Living on Campus
Recommended Actions - Pre Arrival
COVID-19 PCR Test: Have a pre-arrival COVID-19 PCR test to confirm a negative test result prior to traveling to campus. Contact your medical provider or visit your county's website to see what testing options are available. If you test positive, do not come to campus until your medical provider issues a clearance for you. If it is not possible for you to obtain this test in advance, know that all students will be tested shortly after arrival to the campus and on a regular basis thereafter.
Sequester: Students moving into UCSC residential facilities are asked to observe a 10-day sequester period before traveling to the campus.
Required Actions - Post Arrival
Sequester: Upon arrival in Santa Cruz, you will be required to sequester for 10 days prior to engaging in campus activities, including on-site classes.
Sequestering means minimizing in-person interactions between students, faculty, and staff, whether in the residence halls, dining facilities, classrooms, or other campus locations where students congregate. Students may leave their residences only to participate in essential activities (e.g., to purchase food, pick up mail, participate in low-risk outdoor recreational activities, employment, or obtain health care services).
We ask you to please plan to remain on the campus for these first 10 days of your being an in-person Banana Slug. Once those ten days are over, you will be able to move more freely about the campus and its locale, within local COVID-19 guidelines.
We know that 10 days sounds like a long time but we'll do our best to keep you occupied, involved, and engaged to help make this time fly by.

Important Health Information: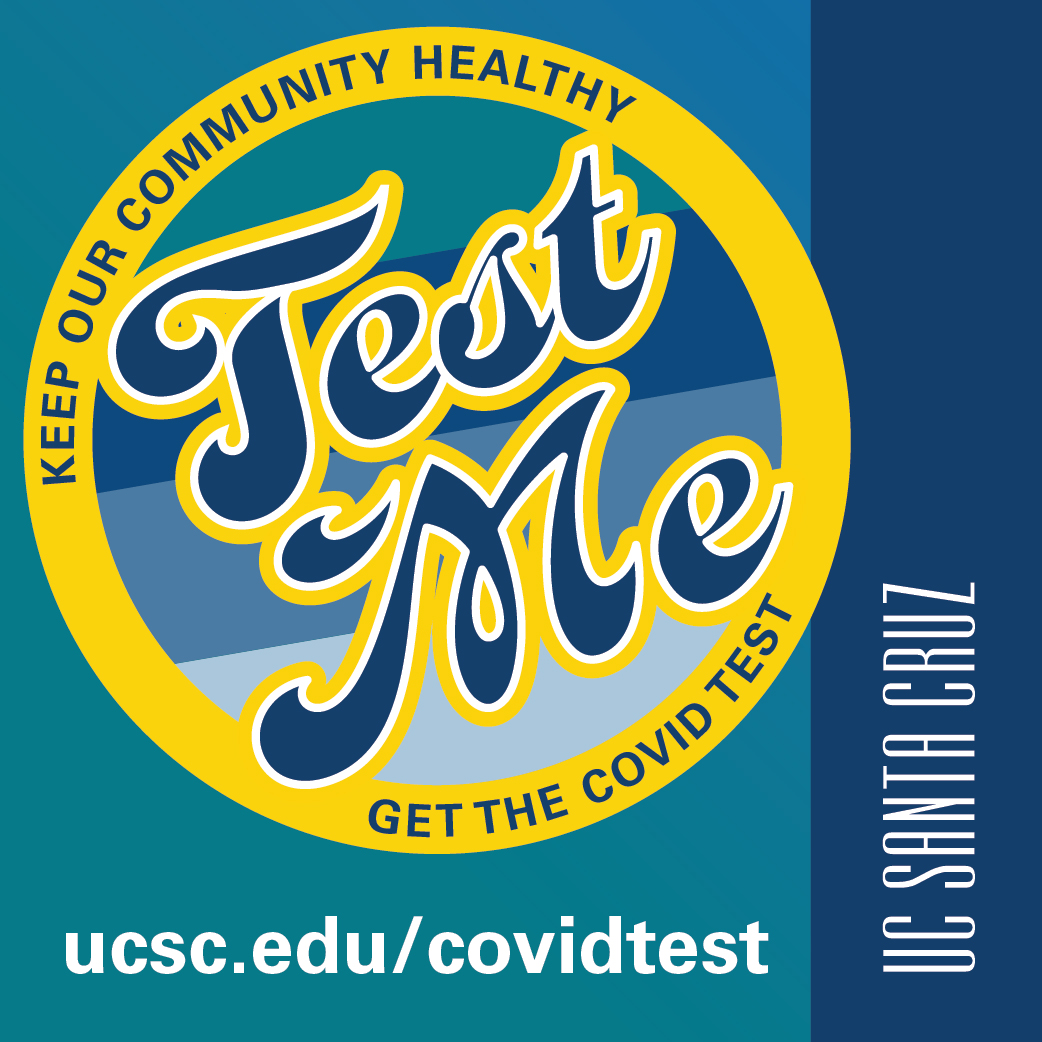 Mandatory Weekly COVID-19 Testing
Students (undergraduate and graduate) who are living in university housing or are on-site for classes, research, employment, or other activities are required to have COVID-19 tests once per week.

Instructions for testing »
COVID-19 Testing: All on-campus students and students taking in-person classes are required to get regular COVID-19 tests. More information from the Student Health Center »
COVID-19 Training: You will be required to take an online COVID-19 safety training course.
Daily Symptom Screening: UC requires all on-campus students to complete a daily COVID-19 symptom screening survey and get regular COVID-19 tests. This applies to students living on campus or taking in-person classes. Students will receive a daily email or text reminder to track symptoms using the online patient portal, Health e-Messenger. With Health e-Messenger, you'll do daily symptom surveys, schedule COVID-19 tests, and see your Clearance Badge. more »
Flu Vaccination: You will be required to receive a flu vaccination. On July 31, 2020, the University of California issued a systemwide executive order requiring all members of the UC community to receive a flu vaccine. You may wish to do this before your arrival. Flu shots will be available through Student Health Services. more »
Housing and Dining
With a smaller on-campus population, residential operations have been adjusted to make the most efficient use of space, staffing, and resources, and our residential students are all being housed in one of these locations (regardless of college affiliation): Crown College, Merrill College, College Nine, or College Ten.
Residence hall rooms are being assigned as single-occupancy, while campus apartments may have a combination of single and double-occupancy bedrooms (apartments will have five or fewer total residents).
Meal plans are included in the housing contract for students living in residence halls. Meal plans are not included for students living in campus apartments, however meal plans are available for purchase through UCSC Dining. Dining services have been modified with the utmost care for health and wellness in mind. Students with meal plans have access to quick-service dining options, including order-ahead take out dining hall meals.
Additional resources:
Keeping Yourself and Others Well
We know that in this time of COVID-19, physical distancing, wearing face coverings, and frequent handwashing are critical to limiting the spread of infection. All members of the UCSC community are expected to take responsibility for their own health and well-being, and act with respect and consideration for those around them. Our intention is to provide a positive on-campus experience while abiding by county, state, and campus public health practices and protocols, including asking all residents to agree to:
Comply with university, local, state, and national public health directives.
Participate in all required pre-arrival protocols, vaccination requirements, daily symptom check protocols, and testing protocols as instituted by the university.
Avoid congregating, gathering, or hanging out in common spaces.
Wear face coverings in common areas and public spaces, in campus offices, dining halls, and retail locations.
Wash hands frequently and avoid touching your face.
Adhere to physical distancing protocols, which means maintaining at least 6 feet of distance between yourself and others at all times. This includes when leaving your room to do your laundry, getting food in a dining hall, etc.
Follow the "no guest" policy. All living areas are considered "residents-only" communities. Additionally, residents may not visit each other's rooms in-person, even if they live in the same residential facility.
Protecting our community of Banana Slugs by following these guidelines is a great way to support our Principles of Community.
We will continue to monitor and implement recommendations and guidelines from the appropriate authorities.
---
FAQ 
How will students get mail during their on-campus sequester period? 
Access to one's mail is considered an essential service. Students, following all precautions as recommended, will be able to visit the mail room to pick up mail and packages. Student mail will be delivered to the student's community of residence. Many students will not be housed at their college of affiliation. Mailing addresses for on-campus housing locations can be found here. 
Will dining halls be open? 
It is currently planned that the Colleges Nine & Ten, dining hall will be providing meal service with all meals offered to go. No in-hall, seated dining until further notice.
Will a gym or work out facilities be open? 
The Athletics & Recreation East Upper Field Jogging Path, East Outdoor Fitness Gym, and West Tennis Courts are currently open for use. There are also many virtual and self-guided recreational opportunities available for your wellness! Register at campusrec.ucsc.edu for a full range of programs, including Getting Started in the Outdoors, virtual group exercise, the McHenry Cup College Challenge, esports, and to become certified as a Behavioral First Responder. Learn more about our recreational programs and facilities at recreation.ucsc.edu.
What are the expectations for shared spaces like the bathroom, laundry room, etc.?
Maximum occupancy signs will be posted on shared-use facilities such as bathrooms and laundry rooms based on the need for maintaining 6ft distance between people. In some cases, this will mean only one person at a time.
What type of COVID-19 testing method will be used?
The campus tests use swabs that only touch the lowest, most-accessible portion of the nostril. At the testing location, staff will give you a swab to collect a nasal sample. You will swab yourself. It is easy to do, doesn't hurt, and the swab doesn't go far into your nose. More information about student symptom checks and testing »
How long does COVID-19 testing take?
Less than 5 minutes.
What is the frequency for getting regular COVID-19 testing?
Students (undergraduate and graduate) who are living in university housing or are on-site for classes, research, employment, or other activities are required to have COVID-19 tests once per week.
Who will be tested?
All students, faculty and staff who live/work on campus.
Will student movement about campus be limited to a particular area of the campus?
Upon arrival, students will undertake a 10 day sequester period during which every effort should be made to limit movement around the campus. Following that period, no specific limitations on movement are currently requested. It must be understood, however, that minimizing interpersonal interaction and taking great care to be wearing a face-covering and keeping sufficient distance from others are considered key components in minimizing risk of infection. Please keep this in mind when moving about on or off campus. Outdoor exercise, for example, is considered an acceptable activity if all precautions are taken.
Will the cafés on campus be open?
The Market at University Center is open for grab and go items and coffee. 
Will the libraries be open?
Due to COVID-19, the McHenry and Science & Engineering Library buildings are closed until further notice. Many library services are still operating and library employees are working remotely to assist. Visit here for more information.
How will sequestering be enforced?
All campus community members are expected to proactively take measures to reduce the spread of COVID-19. Those who do not take these precautions risk disciplinary action that may lead to exclusion from campus.
Will students be able to leave campus for trips during the quarter? / Will residents be allowed to spend a night off campus? 
Once the sequester period is complete, students will be able to leave the campus. It must always be understood that effective mitigation of COVID-19 spread will depend on all campus community members doing their utmost to stay healthy themselves. This will be best accomplished by minimizing travel away from the campus, avoiding gathering in groups, and abiding by all other pertinent recommendations from the CDC (regular handwashing, wearing face coverings when in proximity to other people, physical distancing, etc.).
What if a student tests positive for COVID-19 or becomes ill?
UCSC's Slug Strong response to the COVID pandemic includes providing quarantine and isolation housing for students who are sick or have been exposed to coronavirus. Students will temporarily relocate to quarantine or isolation housing until cleared to return to their usual campus home. Quarantine and isolation housing provides a supportive experience for students who have been exposed to or have become ill with COVID-19. more information »
---
You can find additional information on the following sites:
UCSC Roadmap to Recovery recovery.ucsc.edu
Dining: dining.ucsc.edu/covid-19/