Housing for Graduate Students at Best Western All Suites
UC Santa Cruz has partnered with a local hotel, Best Western All Suites Inn, to provide housing for a limited number of UCSC graduate students! Finding suitable off-campus housing in the Santa Cruz area can be challenging, and this new option is available for interested graduate students.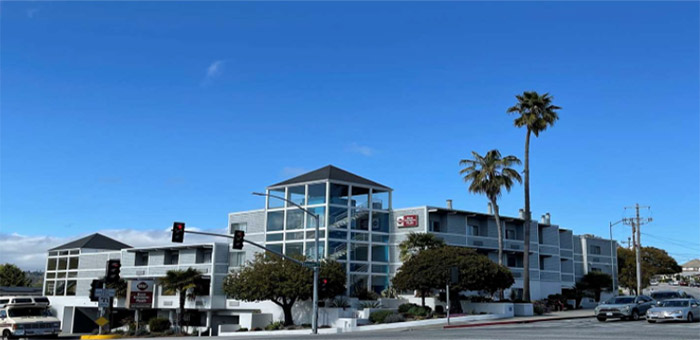 About this option
Located at 500 Ocean Street (Ocean & Soquel Ave.) in downtown Santa Cruz, close to stores and restaurants
Graduate students will be housed in single occupancy rooms.
Comfortable suite fully furnished with a full-size bed, microwave and mini-fridge, sofa, desk and chair, flat screen TV, and private bathroom
Enjoy hotel amenities such as: wireless internet, cable TV service, complimentary breakfast daily in hotel lobby, ice/vending machines, hot tub
Parking (one space per room)
Santa Cruz Metro Center is nearby and a bus stop is across the street from the hotel
Monthly rate of $1,247 billed to your UCSC student account
Academic year contract term (September 2021–June 2022). Students must commit to residing at the hotel for a minimum of one academic quarter, and may stay up to the full academic year.
Note: The hotel will be undergoing renovations during the period of residence, and students will be required to change rooms when instructed to do so by the hotel management. This will only be required once during your stay. Additionally, the hotel requires a valid credit card upon check-in to cover any use of the hotel's ancillary services, and for any such expenses to be paid weekly by credit card or cash—note that this does not include rent, which will be billed to your University account.
There are a limited number of spaces available. If you are interested:
Log in to the Housing Portal (studenthousing.ucsc.edu) to complete the Graduate Student Housing application.
Contact gradhousing@ucsc.edu to express your interest in this hotel option.
If you prefer to find your own housing in the off-campus community, you are encouraged to utilize the rental listings and helpful online resources at
communityrentals.ucsc.edu
.
For more information, contact gradhousing@ucsc.edu.