Construction and Renovation Projects
Merrill College Renewal
March 2015
The beautiful renovation of Merrill College is nearly complete, and students have already begun to enjoy the enhanced indoor and outdoor community spaces.
Merrill's four residential buildings were transformed with contemporary design elements that complement the original architecture. The glass facades on Residence Halls A and B contain lounges filled with natural light. Inside the buildings, student rooms and interior spaces have all new carpet and finishes, new lighting, tech upgrades like wi-fi and IPTV, and new bathrooms.
Completion of the Plaza Building is one of the last major pieces of the multi-year renovation project. A new restaurant is scheduled to open during spring quarter. The plaza area outside the restaurant will have built-in seating, lots of tables, and plenty of open space to use as a community gathering area to enjoy Merrill's wonderful weather. The lower level of the Plaza Building will be the new location for the Housing and Residential Education Office for Crown and Merrill Colleges, providing convenient access to staff and services.

The Plaza Building and the new restaurant space are nearly complete.
September 2014
It's hard to believe a little over a year ago, the physical Merrill Renewal began in earnest. There have been many changes since we started, and the finish line is now in sight.
Similarly to last summer, the past few months have been abuzz with activity, primarily in the C&D residence halls and in the center plaza area. The College Office is being transformed into a separate Gatehouse (mailroom) and Administrative office, with an open breezeway welcoming you to Merrill. The plaza building, soon to house the Merrill Restaurant and the Crown and Merrill Housing and Residential Life staff is coming along as well as the gathering space around it.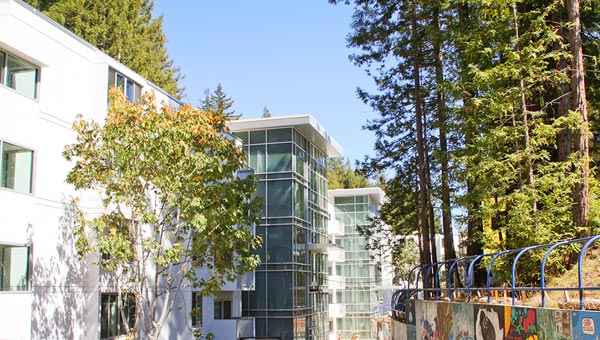 In the A&B buildings, finishing touches are being put on some new lounges, the new College Programs Office is getting set up on the ground floor of B, bridges are being constructed, and the elevators are almost ready for use. The C&D buildings, rooms and lounges, will have new carpet, furniture, and paint. Additionally, the Baobab lounge is sporting new carpet, lighting (goodbye 80s blue metal lights), and furniture.
As of this update, there will still be some projects in process when you return. An elevator is being constructed in D that will not be complete before move-in. In the plaza area, due to the continuing drought status, the lawn is forestalled until we get a healthy dose of precipitation. The plaza building has an estimated completion of mid-November with the new restaurant opening at the beginning of winter quarter. The Housing and Residential Life staff will also move to their new offices when the space is complete, but for now you can find them at The Hub between Crown and Merrill.
We look forward to seeing you in a few short weeks. Enjoy the rest of your summer!
Sincerely,
Alex Belisario
Merrill CAO
March 2014
As winter quarter draws to a close, work continues on the Merrill Renewal project. The steel framing for the glass curtain walls has been going up on the stairwell areas, first stairwell 3 in the A building, then stairwell 6 in the B building, and now over stairwell 2. The glass installation will follow over the next few weeks. In addition to looking beautifully finished, it will also seal that area of the buildings. This will also enclose the location of the soon to be 5th floor lounges.
In spring quarter, the fence surrounding the future restaurant and residential life and housing offices will expand a bit, so we are moving the picnic tables and bike racks to other spaces nearby. You will also start to see work on the moat wall where the new trash enclosure will be.
Enjoy your spring break!
Alex Belisario
Merrill College Administrative Officer
February 2014
As we move through winter quarter, the Merrill Renewal project is also moving along. For Phase I, focused on the A&B buildings, the student rooms, bathrooms and most of the study and social lounges are complete. The last pieces to be completed are the glass curtain walls that will enclose the elevators, lobbies and 5th floor lounges. The curtain wall assembly will begin soon, one stairwell at a time, and should be completed in May. Work on the elevator areas will continue into the summer, and we are anticipating their completion in September.
But it doesn't end there! The Renewal project continues with Phases II and III. Phase II will include the creation of a new Plaza building, including a beautiful new restaurant space and offices for the residential life and housing staff. In the spring quarter, we will begin the bid process for a restaurant to occupy the new space and hope you will participate in the process. This summer, the entire site will be re-graded for improved accessibility, new outside lights, and a new and improved lawn area/gathering space.
Phase III, happening during the summer, will include renovation of the C&D buildings and the removal of the Guzman suites. And finally, the Baobab Lounge will get a little facelift this summer with new paint, new lighting and new carpet.
Stay tuned for more updates.
Sincerely,
Alex Belisario
Merrill College Administrative Officer
September 25, 2013
Dear Residents of Merrill A&B Buildings,
On behalf of the Merrill staff, we hope you have successfully moved in and are settling into your new home. We also hope you enjoyed the plethora of orientation week events and are ready to go to class tomorrow!
As you have undoubtedly noticed, construction, maintenance and IT staff continue to work on completing a variety of projects inside and outside the buildings. Here is an update on the work being done:
Bathrooms

- There are some bathrooms where shower and/or toilet partitions still need to be installed. This work should be complete by early next week.

Laundry rooms

- The returning laundry rooms in A&B are set to be up and running by the end of the week. The new laundry room in A should be complete in 2 weeks.

Network

- The wired and wireless networks should be up and running. If you are experiencing difficulty, please contact ITS at itrequest.ucsc.edu.

Bridges

- The bridges will be getting a non-slip coating this week, so they will not be available to walk on from Thursday morning until Friday afternoon. This will help us to be ready for the next rain (which hopefully won't happen for a little while).

Moat Access

- Work on the elevator areas will resume shortly, so fencing will be going up in the moat. You will be able to exit the buildings and reach the trash and recycling dumpsters, but please stay out of the fenced-in areas. The fencing will be up throughout fall and winter quarters.

Security

- You will see security folks when you enter the buildings for the next few weeks. They will be asking to see your ID, so be sure to carry it with you when you leave. You will also need to escort your guests into the building, so let them know to call you when they arrive.

Fire Alarm Testing

- The fire alarms and smoke detectors are currently being tested, and fire alarm technicians may be entering your room for short periods of time. On Friday, 9/27 from 11am-4pm testing will occur throughout the buildings and the technicians will need to enter every room. Each wing should only be affected for 5-10 minutes at a time, but please exit the building when the alarm is sounding on your wing.
We continue to appreciate your patience as these projects come to completion. If you have maintenance requests for your room, please submit a ticket to fixit.ucsc.edu and we will address issues as soon as we can.
Enjoy the beginning of the school year!
Sincerely,
Alex Belisario
Merrill College Administrative Officer
September 21, 2013
Welcome students! We are glad you are here. As you settle into your new home at Merrill A & B buildings, we have a few construction related updates as of Saturday 9/21.
1) We are working on internet connectivity, so the network (wired and wireless) will be on and off intermittently through Monday.
2) For the next 3 weeks, there will be on-going work activities at the back sides of Dorms A (north exterior side) & B (east exterior side), including contractors working from a lift and/or on an aerial work platform (window-washing style). You may want to keep your shades drawn during the work day for privacy.
Thanks for your patience and enjoy welcome week!
September 18, 2013
The Merrill College Renewal Project began in earnest this summer, and we are pleased with the progress in the first phase of our two part physical renovation.

The facelift to the exterior of A and B building looks great! The new energy efficient windows let in lots of light while keeping the inside temperature comfortable. The windows also lower the amount of outside noise that comes in. Pretty amazing!
As Merrillites arrive on campus this fall, we look forward to sharing the improvements to our residence halls and community spaces. From the facelift to the exteriors of the nearly 45 year old Merrill A and B buildings, to the creation of lounges and social spaces, and the improvements for energy efficiency and connectivity, there is a great deal about which we are excited. For those of you fortunate enough to live in the renovated A and B buildings this coming year you will experience the updated student rooms (new paint, carpet, lighting, windows, and furniture). The buildings also include completely renovated bathrooms, new accessible bathrooms, expanded laundry rooms in A, and new card access door locks.

The new carpet!
One of the cool new features students living in A and B buildings will be able to enjoy is the latest in TV over IP multicasting technology. You will be able to view your favorite TV programming (we have over 60 channels available) right on your laptop or computer using your in-room wired connection. Residents can also use a PC as a tuner to deliver TV programming to their TV.
The two-year project to renovate and beautify Merrill will continue this fall: work on the home for the new elevators in the A and B buildings, ADA accessibility work throughout the college, and preparation for the two-story Plaza building which will provide restaurant space as well as Residential Life and Housing Offices will be underway. This project will also include a bid process to determine the vendor for the new restaurant space. There's much to look forward to as the project continues!
While all the changes and activity around the college will be a frequent reminder of the on-going project, we have strived to make the space useable and inviting for you this fall.
If you have any questions, please do not hesitate to contact us at merrill@ucsc.edu.
December 4, 2012
Click on a thumbnail image to see the full size image.











Project Overview
A renovation project at Merrill College is planned to start in summer 2013. The Merrill Renewal project includes two major components:
Renovation of Merrill's Residence Halls A, B, C, D, Guzman Suites, Plaza building/Restaurant, and College Office, and improvements to interior building accessibility
Improvement of the pedestrian pathways and outdoor gathering spaces at Merrill College to meet accessibility requirements of the Americans with Disabilities Act (ADA) and enhance the outdoor spaces within the college center.
The renovation will make Merrill College ADA-compliant and universally accessible, with elevators, and improved pedestrian pathways, doorways, and restrooms.
Project Highlights
This beautiful renovation of Merrill College will enhance the indoor and outdoor community spaces and improve residential rooms. The renovated residence hall design will bring more natural light to interior hallways and create bright, community gathering space within the buildings. Living spaces will be updated using sustainable design with new paint, carpet, lighting, and furniture. Additional benefits of the modernized buildings will include improved wireless and cellular reception.
An expanded central lawn/amphitheater will provide an open area for gathering, and student programming. The improved circulation plan throughout the center of the college will be more intuitive and will assist students and visitors with wayfinding throughout the area. A new Merrill College entrance will provide a welcoming starting point, and there will be a new student mailbox room.
A new two-story Plaza building will replace the existing one story restaurant and provide space for adjacent outdoor seating areas. The contract term for the current restaurant operator, Tacos Moreno, has ended and they will have an opportunity, through an open bidding process, to operate the new restaurant. Residential life offices will also be relocated to the Plaza building, providing more central access to staff and services.
The renovation project is being designed to meet campus sustainability goals as well as achieve Leadership in Energy and Environmental Design (LEED) Silver certification. LEED certified buildings are designed to conserve energy and water, reduce harmful greenhouse gas emissions, be healthier and safer for occupants, and reduce waste sent to landfills. Other recent LEED certified renovation projects at UCSC's colleges include Cowell/Stevenson Dining Hall and buildings at Porter College.
Background and Timeline
The Merrill Renewal project is part of the 10-year major maintenance cycle during which each of UCSC's residential colleges undergo extensive renovations and improvements. Maintenance projects are generally completed during one summer; however, in this case, the nearly 45 year old Merrill buildings will receive improvements that will span two years. Project work will be structured so that residences will remain open and in use throughout the 2013-14 and 2014-15 academic years.